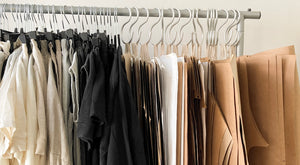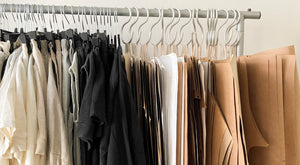 BEHIND THE BRAND
 
My name is Milla Tawast and I'm the founder, designer and maker of TAWAST, a slow fashion brand with roots in Finland, and now based in Copenhagen. The brand's core value is that we shouldn't exploit humans, animals or our planet for the sake of fashion.
My seven years of studies in clothing and fashion have really shown me the drawbacks of the industry. This has made me determined to vouch for a more sustainable fashion future in my work. From this passion the brand TAWAST was born in 2019.
What's important is to offer alternatives to fast fashion and educate consumers about the huge negative effects the fashion industry has. Whether it's harming our planet, the people who are making the clothes or the animals being used as material.
MY BACKGROUND
 
I've always had a call to create. From a young age I was making clothes for my dolls and drawing designs in a notebook. The handcraft studies in school really got me excited to make clothes.
I continued on this path and after college went to study about manufacturing clothes. After three years of learning about pattern making and sewing I graduated top of my class as a seamstress.
I then went on to continue my studies in the fashion industry and took on a four year education in Helsinki Metropolia University Of Applied Sciences. I wrote my final thesis on ethical and ecological textiles and graduated as Bachelor Of Clothing And Fashion in 2019.
MADE TO ORDER
Every TAWAST piece goes through my hands from the designing and pattern making to the manufacturing and packaging.
All the garments are made to order so we don't produce more things into the world than there is a use for.
TIMELESS
TAWAST offers slow fashion garments that are minimal and made to be as timeless as possible in order to go from one season to another. Comfort and practicality are huge design factors so that you can actually move in your clothes and go about your daily life.
GIVING BACK
TAWAST donates 5% of each sale to animal sanctuaries. We have personally visited these places and witnessed the amazing work they do to help animals in need.